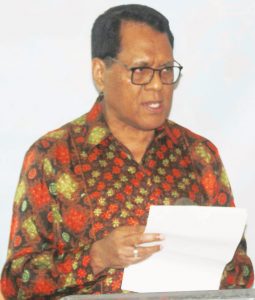 Indonesian Ambassador to Malawi, Tito Dos Santos Baptista, has commended bilateral and trade relations between his country and Malawi.

Baptista was speaking during the Indonesia-Malawi Business and Investment Forum held in Blantyre. He said relations between the two countries continue growing stronger since establishment five years ago.

However, he said more needs to be done if trade between the two countries is to grow further. Figures provided show that trade volume between the two countries increased from $27.1million in 2017 to about $ 28.1 million in 2018. Baptista said although there are improvements more could be done.
"Attaining these goals will require common efforts or synergy, not only from government officials of both sides, but active participation of business communities and other stakeholders," Baptista said.

The forum was a follow up to the Indonesia-Africa Forum held in Bali, Indonesia, in August 2018 and the Indonesia-Africa Infrastructure Dialogue in August this year.

Malawi Investment and Trade Centre Investment Promotion Manager, Modie Chanza, said Malawi is ready to partner with Indonesia to benefit citizens

"Malawi has vast potential of investment in tourism, infrastructure development, energy and mining. So, as a country, we are ready to do business with all countries including Indonesia," Chanza said.

She also described the forum, which brought together business people from the two countries as important, saying it will help them explore business opportunities available.

Source: Daily Times